Arturia announces 'Brutal Offer' on markdown MiniBrute monosynth masterpiece
"I'm impressed by how different this synth sounds from anything else I have heard. It's fun to play and doesn't need much processing to stand out in a busy mix. This is definitely a new classic. Bravo Arturia!"
– Stefano Ritteri (DJ and producer, 2015)
GRENOBLE, FRANCE: music software and hardware developer and manufacturer Arturia is proud to celebrate the now-classic status of its super-successful MiniBrute Analog Synthesizer — an amazingly compact and bijou analogue monosynth (boasting MIDI, USB, and CV connectivity, together with a host of unique features) — with an appropriately-baptized 'Brutal Offer' offering an unmissable and unbeatable €150.00 EUR/$150.00 USD discount in a time-limited promotional pricing campaign starting on May 4…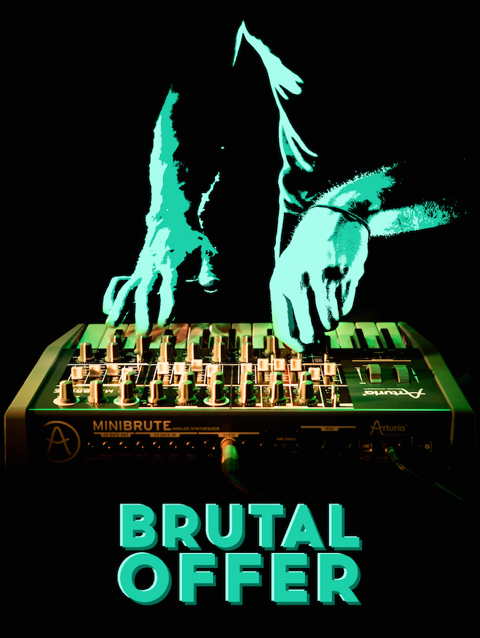 Mere months after being unleashed on an unsuspecting synth world back in 2012, Arturia's amazingly compact and bijou MiniBrute Analog Synthesizer successfully took said synth world by storm, rapidly reseting the price/performance benchmark to seriously soar through the subtractive synthesis sound barrier. Benchmarking what an analogue monosynth could (and should) be in the modern musical age, awards aplenty and sales success soon came calling as MiniBrute rapidly established itself as Arturia's hardware calling card, helping heat up competition in the productive process as rival manufacturers followed the trendsetting company's lead. Low and behold, another analogue renaissance was soon in full flow. Only this time it was time for new designs to take the lead over vintage synths.
So what made MiniBrute so special then and continues to do so today — so much so that heavily-occupied and obsessive online communities have grown around this ever-popular product on Facebook (https://www.facebook.com/MiniBruteArturia?fref=ts) and SoundCloud (https://soundcloud.com/groups/arturia-minibrute-users)? Undoubtedly, an awesome-sounding 100 percent analogue audio signal path plays a major musical part in this progressing popularity. After all, it includes an OSCILLATOR MIXER (with Sub Osc, sawtooth, square, triangle, white noise, and Audio In) and a classic Steiner-Parker multimode FILTER (with LP, BP, HP, and Ntch settings) — as approved by Nyle Steiner, inventor of the EVI (Electronic Valve Instrument) and EWI (Electronic Wind Instrument) — that helps set its sound apart from those similar-sounding rivals. Real analogue innovations include a Metalizer control (to add complex harmonics to the triangle waveform), Ultrasaw Amt and Ultrasaw Rate controls (to add a lively and bright ensemble effect to the sawtooth waveform), and a Brute FactorTM control (to add anything from subtle overdrive to wreaking full-blown intermodulation havoc). It is flexible features such as these that ensure MiniBrute makes its own musical mark alongside analogue monosynths deemed worthy of legendary status, such as the long-since-discontinued MinimoogTM, Roland SH-101, and Sequential Circuits Pro-One, as well as the ARP Odyssey and Korg MS-20 (and their recent reboots).
Relatively unreliable by comparison, yesteryear's sometimes shaky analogue monosynths remain highly-sought-after second-hand instruments, thanks to their warmth, fatness, and striking sonic characteristics. Classy and classic in its own right, MiniBrute's stable and awesome analogue sound still holds its highly-musical head up high when pitted against the best of them with a flexible feature set belying its diminutive dimensions: LFO (with six waveforms and bi-polar modulation destinations); secondary LFO (with three VIBRATO modes); FILTER ENVELOPE and AMPLIFICATION ENVELOPE (each with Attack, Decay, Sustain, and Release); 25-note keyboard (with aftertouch); external analogue AUDIO In(put); and ARPEGGIATOR (with four Modes, four-Octave range control, six Step time divisions, and Swing control) — all comfortably contained in a highly-portable device merely measuring 390 x 325 x 70mm, and weighing in at 4kg. Knowingly connectable, thanks to its full compliment of MIDI (Musical Instrument Digital Interface) In and Out, USB (Universal Serial Bus), and CV (Control Voltage) GATE IN and CV GATE OUT connections, MiniBrute majorly integrates with modern and vintage studio setups alike, and can even act as a MIDI-to-CV interface!
It's cost? Consciously priced to go at €549.00 EUR/$549.00 USD… normally. Now, the must-have MiniBrute can be bought for only €399.00 EUR/$399.00 USD, thanks to Arturia's attractive 'Brutal Offer' — offering an unmissable and unbeatable time-limited €150.00 EUR/$150.00 USD discounted promotional pricing campaign running between May 4 and June 30, 2015, inclusive. It is definitely a new classic to be musically reckoned with! Why not ask prolific Italian DJ/Producer Stefano Ritteri? He's certainly sold on the innovative instrument in question. Quite simply, MiniBrute is making its musical mark amongst many more famous users from far-reaching genres, including British techno DJ/producer and radio presenter Dave Clarke, synth-pop Svengali Vince Clarke (Erasure/ex-Depeche Mode and Yazoo), Unkle's Pablo Clements, Air's Jean-Benoit Dunckel, French techno artist/DJ Gesaffelstein, Dutch producer/remixer Junkie XL, American alt rockers Passion Pit, Portishead's Adrian Utley, and many more besides. Being brutally honest, can anyone afford to be without MiniBrute?
Thanks to Arturia's attractive 'Brutal Offer' (offering an unmissable and unbeatable time-limited €150.00 EUR/ $150.00 USD discounted promotional pricing campaign running between May 4 and June 30, 2015, inclusive), MiniBrute is now available to purchase for only €399.00 EUR/$399.00 USD from any authorised Arturia dealer or directly from Arturia here: https://www.arturia.com/store/hardware-synths/minibrute
For more in-depth information, please visit the dedicated MiniBrute product webpage here: https://www.arturia.com/products/hardware-synths/minibrute/overview
Meet the man behind the 'Brute… read an informative interview with MiniBrute designer Yves Usson here: https://www.arturia.com/company/news/artist/interview-yvesusson
Watch Arturia's inspirational introductory MiniBrute video here: https://www.youtube.com/watch?v=sUNNwibffTw