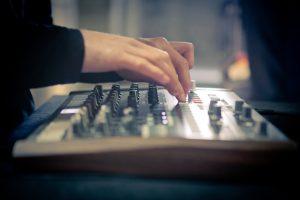 Arturia has announced its first ever analog drum machine.
So what is the goal with this unit? What are my thoughts?
Here is what I can say, In my opinion this is what the roland TR8 should have been. an all analog drum machine with both step and real time recording that provides the booming sounds of the 808 and 909 (Plus many all new circuits) at an affordable price point and with individual outputs per voice. This isn't Rhythm wolf low stripped down rushed out low quality, instead its a group of high quality drum circuits (take a look at the engineers credited in the manual) paired with an updated version of the beat step pro sequencer. This sequencer really has some cool tricks up its sleeve like ratcheting and timing shift per step. Think of that like swing on steroids. Random from the beat step pro also appears and to top it all off you have a global steiner parker filter to get your sweep on. Everything syncs via modular clock or midi clock so you can pair it nicely with your modular… yep you can clock it from your modular or have it clock your modular!. 
Another point of note is this drum machine has proper voicing… what I mean by that is the Snare and clap actually punch through a mix unlike many of recent analog drum machine releases in the lower price range… these snares actually crack hard! couple that with some 808 and 909 inspired (and also improved) designs for the kick and you have a pretty powerful unit. 
The reverse cymbal is a new sound not yet heard in an all analog drum machine, and the tambourine and shaker sounds are really impressive (not just ho hum pass over sounds like on many other drum machines). Over all at this price point I am very excited to see an all analog drum machine. Hope to have a review unit soon!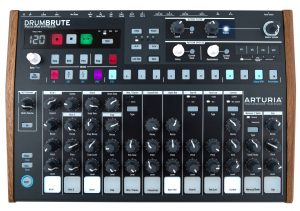 Below is the official Press release:
Arturia are excited to announce the arrival of DrumBrute – a 100% analog drum machine & sequencer designed with performance and in-depth sound editing at its heart.
The newest member of Arturia's Brute family, DrumBrute is a powerful beat-making instrument that carries the savage DNA of the MicroBrute, MiniBrute, and MatrixBrute. 
Key features of the Arturia DrumBrute include:
Analog powerhouse: DrumBrute contains 17 fully analog drum & percussion instruments, including two kicks, snare, clap, open & closed hats, high & low toms and conga, maracas, rimshot, clave, tambou- rine, zap, cymbal, and even a reverse cymbal.
Exciting synth features: the main output contains a highly regarded two-mode Steiner-Parker filter, al- lowing you to add dynamic frequency sweeps and satisfying bass drops. Not only that, but every drum sound has multiple parameters that can be tweaked to achieve your perfect kit.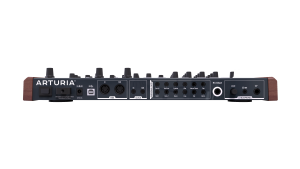 Easy to use, quick to learn: each one of DrumBrute's 64 sequences can contain up to 64 steps, and can be chained together in a song mode. Despite this massive performance power, punching in your perfect beat is simple and fast. Fans of vintage drum machines will feel right at home with the familiar layout.
No menus: every feature has its own dedicated button, knob, or pad, so you'll spend less time navigat- ing endless sub-menus and more time making music.
In-depth editing: get in the groove with the natural Swing feature, inspire yourself by dialling in some Randomness, mix up your rhythm with Step Repeat, Roller and Looper functions, accent particular drum hits to add some punch to your beat… DrumBrute has a wealth of advanced features that will satisfy even the most discerning musicians and producers.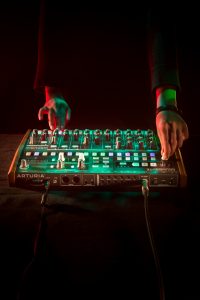 Plays well with others: DrumBrute has extensive connectivity and sync options, including MIDI, Clock, 1PPS, 2PPQ, DIN24, and DIN48. This means that DrumBrute will work seamlessly with all of your other modular, synth, and sequencing gear.
Amazing in the studio: DrumBrute boasts dedicated audio outputs for each instrument channel giving almost limitless options for external processing and multitrack recording; 3.5mm and 1⁄4" headphone outputs so you'll never have to hunt out an adapter again; and it can act as a fully-fledged MIDI inter- face to control your DAW. DrumBrute is an essential tool for the modern producer.
Reliable on stage: with rugged housing, chunky pads, and wiggle-free knobs, DrumBrute can be relied upon to perform show after show. Always striving to improve with every new release, Arturia have created a strong, enduring instrument that's ready for life on the road.
Punches above its weight: DrumBrute stands toe-to-toe with the leading drum synths on the market, but at a fraction of the price. No other all-analog drum machine features such inspiring and dynamic features while retaining a sense of intuitive, tactile fun. 

DrumBrute is priced at 449€ / $499.
DrumBrute will shortly be shipping, and will be arriving at your local music store in November. DrumBrute is available to order now from the official Arturia web store, and from retailers worldwide.
For more information on features, specifications and dimensions, visit the DrumBrute page on:www.arturia.com/products/drumbrute
Watch the introductory movie: https://youtu.be/FSMA2s4yYRA