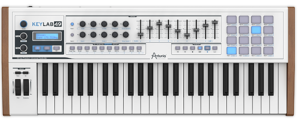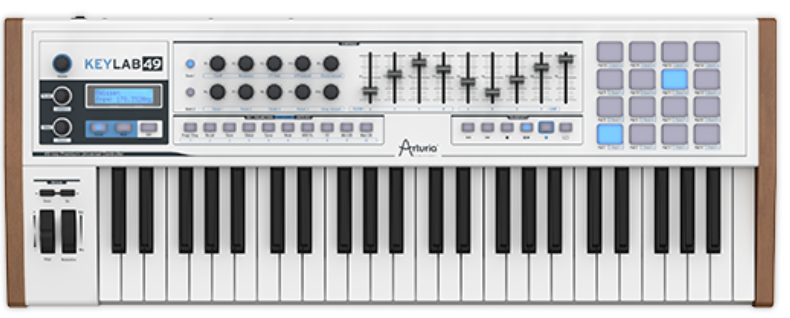 The KeyLab 49 has been high on my list of potential purchases for a while. I was not fully satisfied with the current controller keyboard I was using, but I also was having trouble finding a controller with the specs I wanted.  When I first came across the KeyLab 49 my initial impression was that I really liked the metal casing, the smooth turning knobs, the beautiful blue LED scheme and the layout. I was admittedly a little worried that the light synth action of the key bed would turn me off (being used to a much stiffer controller) however this proved to be unsubstantiated. I found myself very much enjoying the keys over the past 2 months that I have spent with the board.
     A few items that really stand out for me are the wonderful faders. It may seem like a small item but they really are a joy to use when sculpting synth ADSR settings. I also found my self enjoying the ability to quickly browse presets from the controllers preset and category knobs. The included software really illustrates how far Arturia has come in the past few years. While All the sounds in the Analog lab software are certainly usable, I did find that the newer offerings (SEMV) compared to older offerings (ModularV) show a much higher sonic quality (listen to a filter sweep between the two and you will hear a marked improvement in the new software).
The vast number of Presets make it a real joy to quickly and easily find what you are looking for. I had no troubles with the software stability I also found it utilized the controller very well.
    Moving on to using the Keylab 49 with BitWig, I found it to be a surprising joy. I am new to Bitwig but was able to easily navigate around using the controller and easily able to have the knobs doing just as I wanted. There is a surprisingly fun character about the software and nearly every time I went back to it I found an update waiting. The software is certainly growing quickly.
All in all I found the KeyLab 49 to really fit my workflow very well. It doesn't get in the way and just works how you would want it to. While I could ask for the pads to send midi chords out generically and be a bit more dynamically responsive, I still found them quite usable.
I would recommend this package if you are in the market for a controller. The included software is a real bonus as well. Considering the "Producer Pack" is only about $50 more than the standard Keylab 49 it is a real no brainer.
Flux
        Here is the press release
Three versions of the Producer Pack bundle are now available for purchase, differentiated by the cutting-edge KeyLab keyboard controller included: as implied by name, Producer Pack 25 is based around the KeyLab 25, the smallest such keyboard controller in Arturia's KeyLab range, featuring 25 keys with velocity sensitivity for performance flexibility, complimented by a feature-packed panel bristling with controls compatible with third-party software and hardware alike; Producer Pack 49 and Producer Pack 61 come complete with the larger KeyLab 49 and KeyLab 61, respectively, maximising performance and expression further still, thanks to their respective 49- and 61-note keyboards boasting both aftertouch and velocity sensitivity. Setting the standard for MIDI control, all are designed to easily integrate into any studio or stage setup.
Speaking of integration, regardless of which Producer Pack is purchased, rest assured that each and every KeyLab keyboard controller concerned here has been mapped to work flawlessly with the full version of the bundled Bitwig Studio software right out of the box so purchasers need not concern themselves with the tedious task of getting things up and running, but rather focus on making music. Moreover, Bitwig Studio has been conceived by its creators to eliminate creative boundaries and bring out the best in musical ideas at every stage of the production with professional time-based and loop-style recording. Arrange, mix, and edit separately or simultaneously with customisable workflows to match any style. Since each and every Producer Pack includes a Bitwig Studio installation DVD and printed manual there's no need to squint at scrolling screens while getting to grips with igniting creativity.
For his company's not inconsiderable part in igniting the creative partnership proceedings, Bitwig CEO Placidus Schelbert says, "From the start, Bitwig recognised Arturia as a fantastic company that offers unparalleled quality and attention to detail in everything that they do. Establishing a partnership is a great benefit that combines the outstanding workflow of Bitwig Studio with rich content and hands-on control from Arturia. The Producer Packs reveal the power and flexibility of music making in ways never experienced before."
Arturia President Frédéric Brun echoes such supportive sentiments, stating, "We are thrilled to be partnering with our friends at Bitwig so we can bring you the Producer Packs. Bitwig Studio is one of the most innovative and smart software solutions that we have seen coming through in recent years. We think musicians will enjoy finding a top-quality controller, a very smart production suite, Analog Lab's huge collection of sounds, and also Mini V in one package."
Of course, all Arturia's KeyLab packages come complete with its attractive Analog Lab software synthesizer solution, boasting a huge library of over 5,000 presets by internationally-renowned sound designers taken from all eight of its award-winning and critically-acclaimed TAE® (True Analog Emulation) synthesis-powered Mini V, Modular V, CS-80V, ARP2600 V, Jupiter-8V, Prophet 5, Prophet VS, and Oberheim SEM V soft synths, as well as VOX Continental-V — bringing back the coveted classic sounds of the Sixties-vintage VOX Continental 300 organ as authentic-sounding software — and the Wurlitzer V software recreation of the classic Wurlitzer 200A electric piano, providing the immediacy of a hardware instrument with the flexibility of a software-based solution. So it should come as little surprise to learn that each and every Producer Pack also comes complete with Analog Lab. What's more, owners of any of Arturia's aforementioned Analog Classics can, of course, delve as deep as they like and are free to fully edit sounds without having to leave the user-friendly Analog Lab environment. Just as well, then, that each and every Producer Pack also includes Mini V. Created in partnership with Dr Robert Moog himself back in 2003, this plug-in has become a studio standard, much like the original 1971- vintage MinimoogTM synth that it so successfully recreates the look and feel of with unparalleled sound quality. Again, all Arturia software is already mapped to work with its KeyLab keyboard controllers so users don't have to do it themselves.
With the timely introduction of the three Producer Pack bundles, two top-tier music technology brands have clearly combined their strengths to develop a complete production package that raises the bar in design quality with deep integration of hands-on control, rich virtual content, and next-generation workflow with Bitwig Studio. So what's not to like here? Anyone looking to pair up a cutting-edge keyboard controller with creative workflow-enhancing software solutions should seriously consider adding a Producer Pack bundle to their studio or stage setup.
Producer Pack bundles are available now in limited quantities through Arturia's network of dealers and retailers, priced as follows: Producer Pack 25 (€349 EUR/$349 USD), Producer Pack 49 (€399 EUR/$399 USD), and Producer Pack 61 (€499 EUR/$499 USD)
For more detailed info, please visit the Producer Pack product webpage here: https://www.arturia.com/products/producerpack