FULTON, MD, USA: audio software creator Impact Soundworks is proud to announce availability of SUPER AUDIO BOY — a free AAX-, AU-, and VST-compatible KONTAKT instrument/sample library that creatively captures the retro sounds of the legendary Nintendo Game Boy handheld for authentically (re)creating Chiptunes or fast-forwarding them to today and beyond with advanced layering, filtering, arpeggiation, and much more besides — as of May 8…
SUPER AUDIO BOY is Impact Soundworks' free version of SUPER AUDIO CART — the most complete set of classic video game samples ever produced, but bringing powerful SAC synthesis, rhythm, effects, and modulations to bear upon the detailed sample set of the legendary Game Boy alone. And it doesn't get much more classic than Game Boy, a handheld system with interchangeable cartridges that truly revolutionised the gaming industry upon its release in 1989. Developed and manufactured by Nintendo to tremendous success throughout its lifespan, it shifted an unprecedented 64-million units before Game Boy Color came calling in late 1998, thanks in no small part to highly-addictive games such as Tetris, their distinctive-sounding synthesized electronic music made within the technical limitations of Game Boy's sound chip. Powered by a specialised 8-bit Sharp CPU sporting two pulse oscillators, a 4-bit PCM sample channel, and a noise generator, Game Boy remains the first choice of many musicians in the Chiptune scene, thanks to the LSDJ cartridge, allowing for direct access to that sound chip to create music.
Music
ally, SUPER AUDIO BOY allows access to those classic sounds and much more besides. As Andrew Aversa — Impact Soundworks Lead Developer — himself proudly points out: "It basically takes the Game Boy part — all the samples that come with the Game Boy — and complete engine of our original SUPER AUDIO CART library and makes it free. All of the features from SUPER AUDIO CART are here, too; the only difference is that this is just Game Boy… all deliciously lo-fi and bit-crushed, just the way we like it! Everything is sampled from an actual Game Boy; these are the waveforms with all the grit from the circuitry of the Game Boy, recorded and very carefully edited and looped. Now, of course, the wonderful thing about SUPER AUDIO CART and, in turn, this free instrument is that you can take those very simple waveforms, put them into the engine, and do all sorts of cool stuff — not just Game Boy sounds, but create modern sounds as well. The big difference between SUPER AUDIO BOY and other free Game Boy emulations out there is that you have all these additional sound design features. For example, we also have an X-Y pad, which can be assigned to LAYER BLEND, so we can blend between layers, and then the X and Y axes can be assigned in our modulation matrix. This is incredibly powerful stuff! You can create LFOs, envelopes; you can do random parameters — modulate CCs or ranges, like key ranges, velocity ranges… it's just awesome!"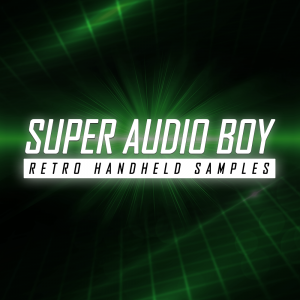 Indeed, it is! Free it may be, but feature-light it is not. Needless to say, SUPER AUDIO BOY comes complete with the same four independent sound sources (LAYER A through to LAYER D) as its bigger brother, together with an integrated sound source browser; over a dozen filter models; poly arpeggiator, gate, and sequencer; 64-slot Mod (modulation) Matrix; plus five FX racks. Resumes Andrew Aversa: "These effects can be turned on and off; you can modulate these using the modulation matrix and hook them up to different things. We've got the SNES VERB — even though this is not a Super Nintendo — and convolution REVERB, and four additional effects racks — one per layer. You will not hear an actual Game Boy doing that, but that is the power of SUPER AUDIO BOY — all these advanced sound design things that you can use if you want to. Of course, because we've got arpeggiators and sequencers onboard, you can create drum loops just by holding a note."
Notably, SUPER AUDIO BOY works with a wide range of controllers — keyboard or otherwise, since users can map almost any parameter or control to any physical CC. Clearly, then, this is a very powerful software tool for authentically (re)creating Chiptunes from a glorious (Game Boy) bygone era or dragging distinctive retro sounds — creatively kicking and screaming — back to the future… for free!
SUPER AUDIO BOY is available for free from Impact Soundworks here: https://impactsoundworks.com/product/super-audio-boy/#purchase
Note that SUPER AUDIO BOY requires the full version of Native Instruments KONTAKT (5.5.2 or higher).
For more in-depth information, including several superb-sounding audio demos, please visit the dedicated SUPER AUDIO BOY webpage here: https://impactsoundworks.com/product/super-audio-boy/
Watch Impact Soundworks Lead Developer Andrew Aversa's SUPER AUDIO BOY video walkthrough here: https://youtu.be/pBOlE6gYqVY
About Impact Soundworks (www.impactsoundworks.com)
Impact Soundworks creates audio software designed with composers in mind: sample libraries, virtual instruments, and plug-ins. As passionate about creating music tools as its customers are about making music, the company was founded in 2008 by composers Andrew Aversa and Will Roget, II at a time when there were several large virtual instrument companies already around, but few developers creating affordable, flexible, and focused libraries featuring more unusual and unique sounds. Shrewdly, the dynamic duo noticed much in the way of in-depth orchestral offerings, but more unusual instruments were not being sampled with much detail at all. As such, the company's first two releases were Impact Steel, a collection of found metal objects played as percussion, and Sitar Nation, a set of instruments from North India. It has since been collectively working hard to address the needs of modern composers, successfully striking the balance between depth and ease of use. Ultimately, Impact Soundworks is proud to call tens of thousands of musicians around the world its customers, intelligently investing time to study suggestions and review requests. After all, that is how a number of its best-loved libraries started… from the smallest seed!
© 2017 Impact Soundworks