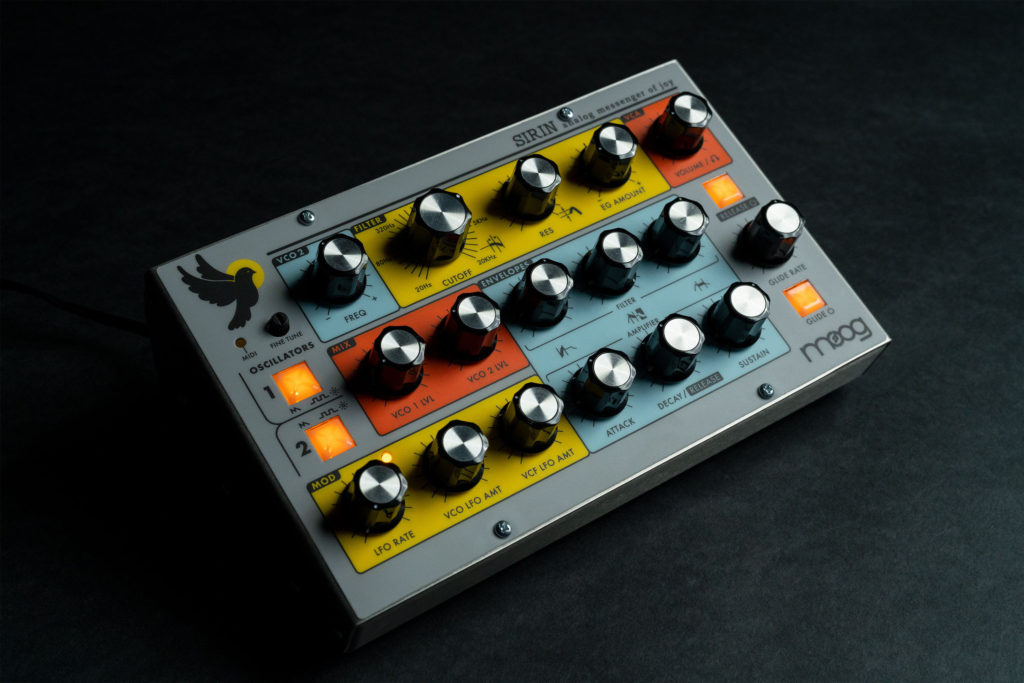 MOOG MUSIC DEBUTS LIMITED EDITION SYNTHESIZER AT LA POP UP
Sound has the power to evoke feelings and images, translating energy from one level of reality to another. Musical experience brings us into contact with these transpersonal realities through the intelligent organization of sound waves. Artistry is in fact the art of translation.ABOUT SIRIN
Sirin is a limited-edition synthesizer module created in celebration of the Moog House of Electronicus Pop-up experience. Based on the legendary Moog Taurus sound engine, and presented in the familiar compact form of the Moog Minitaur–Sirin is the first instrument in Moog's Taurus family of bass synthesizers designed to generate pitches far above above middle C, with an extended frequency range that reaches notes up to D8. Connect Sirin directly to any MIDI-note controller and immediately access a portable world of powerful analog sound, or hook up to a computer via USB to explore even deeper layers of sound design, where every parameter can be manipulated, automated, and recalled using Sirin's dedicated Editor Librarian Software (free download for PC and Mac).Secured in a brushed stainless steel enclosure with a retro-inspired color palette, Sirin is an intoxicating conjuror of both quintessential leads and menacing Moog bass. Sirin's fully-recallable analog sound engine originates with two analog Taurus Bass oscillators that have been re-engineered to soar octaves beyond the traditional boundaries of its mythical ancestors. Sirin's harmonic transmissions are dynamically shaped and sculpted by a classic Moog Ladder filter operating in consummate harmony with two lightning-fast ADSR envelopes and a multi-wave LFO, offering a wide spectrum of expressive timbral variety and versatility.Sirin integrates seamlessly with modern computer-based production environments via its dedicated Editor Librarian software (available as a free download for registered Sirin owners)–manage patches, automate parameters, unlock 6 additional LFO waveforms, engage Hard Sync, load up to 128 presets into Sirin, access full ADSR envelopes and more as you explore the vast magical realms of analog synthesis.A limited production run of 2500 Sirin are being produced by the employee-owners at the Moog Factory in Asheville, NC–after which no more will be available.Sirin will officially debut at the Moog House of Electronicus Pop-Up in LA's historic Chinatown. During the week of Jan 24 – 30, Sirin will be available for purchase exclusively at www.mooghouseofelectronicus.com (US only) and on site at the Moog House Of Electronicus Pop-up (712 N Figueroa St, Los Angeles, CA 90012, 1/24/19-1/30/19), after which, the remaining synthesizers will be distributed world-wide.SIGHT & SOUND
In this video from Moog Music, Nick Sanborn (Sylvan Esso, Made Of Oak) explores the power of sound using Sirin and DFAM analog synthesizers. Sanborn weaves multiplexed patterns of sound waves–translating the thoughts and feelings of the collective individual into a shared musical experience.With the exception of the DFAM's percussive analog backbeat, all sounds in this video come from Sirin. Nick Sanborn uses the free downloadable Sirin Editor Librarian software to automate and recall parameter settings as he layers multiple monophonic tracks from Sirin.Sirin is now shipping and all orders placed through the House of Electronicus website will ship within 5-7 business days of order.ABOUT THE MOOG HOUSE OF ELECTRONICUS
The Moog House of Electronicus is a synth-guided exploration of the power of sound, inspired by the Moog Island Of Electronicus; an experimental gathering that took place on the barrier island of Tierre Verde during the 1970s. After Moog missionary David Van Koevering was presented with a vision in a dream, the Island of Electronicus became manifest–a synthesized celebration of peace and love; an electronic happening designed to unite mind, body, and soul in a creative explosion of thought and feeling. Today, the Moog House Of Electronicus continues this legacy by inviting all to trust their curiosity, express their innermost selves, and share in the vast creative force of the collective individual.The Moog House of Electronicus Pop-up is open to the public daily from 12pm – 8pm, Thursday, January 24th – Wednesday, January 30th. Visitors will have the opportunity to get hands on with Moog synths (including Sirin and the new polyphonic Moog One synthesizer), as well as explore the deeper dimensions of sonic experience through interactive sculptural synthesis installations, an immersive audio visualization system, and daily synthesizer workshops led by synthesist Bana Haffar. Workshop space is limited–those in the LA area can sign up at here to reserve a space.