FluxWithit takes a serious look at the Rokit brand monitors.
KRK Rokits evoke emotion in home studio enthusiasts no doubt about it. I wanna start this article off by saying, I know. I know the history, I know the past. I was there. I was in those home studios where Krk Rokits really became as prolific in homes studios, as those white coned monitors did in the studios of the 80's… But the yellow coned booming sound gained its massive home studio adoption for arguably opposite reasons. KRK Rokits of old just made things sound good where as those white coned units were known for being so bad that if your mix sounded good on them, it would translate all over. they were affordable, had a great low end extension for the money and they were noticeable with that bright yellow cone. sounding good however is not always what you want from a studio monitor. What you might be after is truth. Sometimes those little lies that make us happy, can hurt us down the road in a mix. There in lies the controversy with KRK Rokits. known for being entry level monitor that delivered great sound, but at the cost of covering up some of our mistakes.
So here we are today, many generations of updates later with KRK Rokits now on their 4th generation. Are these Rokits the same as the old Rokits? Well thats my goal to find out. I went into this review with an open mind and a curiosity. The first thing I noticed about these new generation of monitors is that in built DSP is standard on the Gen4 Rokits. There is a nice graphic display panel round back that has a very easy to use control knob which doubles as the volume control (ok volume in this case is actually monitor input sensitivity but I digress.). This screen indicates a pretty significant shift. Krk is giving you 25 eq setting to better suit the acoustic environment that your monitors are placed into.
I was a bit skeptical about this at first, however there is a really cool feature of these monitors when setting them up… KRK includes an app (that is actually use for any brand monitors not just these KRK monitors!). The app KRK Audio Tools available for ios and android assists you in everything from aligning your monitors at the correct angle to your listening position, room equalization (for use with the onboard DSP eq.), Delay time alignment, phase alignment, a signal generator as well as a FFT spectrum analyzer all with simple to understand instructions. Once you have used the app to set up and test your monitors it will give you recommendations on EQ settings for the onboard DSP which you can then double check against your FFT in app.
This onboard DSP and APP functionality is a bigger deal than you might think. It points to acknowledgment from KRK that there is flexibility to these monitors. Yes we want flat mixing monitors but the truth is, when producing sometimes you want your mix to be enjoyable BEFORE you get to that mixing stage. With these Gen4 monitors you get the best of both worlds. you can have that loud punchy sound associated with Rokits that makes producing banging beats so fun… and then when you want that flat mix, you can enable the onboard DSP and flatten the mix out. It's not even a hassle to switch between the settings. Thats pretty cool in my book.
Back to the point of clarity and a true mix. I have noticed that these monitors are far more defined than their predecessors. I used to get annoyed with Gen2 because I felt the mids just were not as clear as I would like. With the Gen 4 I am not having any of those feelings at all. mid range clarity seems to be on point. I don't know if this is due to the upgraded materials on the cone and tweeter. Now a very visible Kevlar® weave. This trickles down from KRK's high end monitors the V series. the new wave guide and single piece design is touted to be a low resonance enclosure. To that point I made sure to test a wide range of frequencies to try and get some rattle or resonant peaking out of these monitors yet they stayed remarkably accurate. While working on sound design for a new synthesizer I found my self often moving between monitoring solutions to double check clarity. I was cautious with trusting a new monitor set especially considering I am also in a newly built studio that I have yet to become fully accustomed to yet. the Gen4's consistently were providing me with a translatable sound. The Bass is certainly not feeling over hyped. Quite the contrary I found myself actually increasing the low end eq to boost the bass a bit. The high end is extremely crisp again I do suspect this has to do with the Kevlar cone and new drivers. Side to side movement is less a strong point on these monitors from the JBL monitors as I do notice the sweet spot is a little more direct but not nearly as pronounced as previous generations, certainly acceptable. vertically I feel the range of sweet spot is very good giving a rather wide range (I tend to sit and stand often when working so this is pretty important to me.)
Loudness of KRK's has long been a feature for many a beat maker. These new Gen4 are no slouch in that category. These deliver a max spl rating of 111db (3 db higher than the previous generation) So I don't think you will need to worry about filling your room with sound. At higher sound pressures I did not notice any case vibrations or looseness that would cause any sort of rattle. This was something I was initially concerned about considering the front panel is actually magnetically held in place (more on that later.) I was quite relieved to hear no odd rattles.
The big front port on these monitors means that you can optimize space in your studio. Unlike rear ported monitors these are less susceptible to rear walls intruding on your sound clarity. This can help maximize your monitor placement in smaller rooms. I highly recommend you give the manual a read (WHAT WHO EVER RTFM?!?!) It is actually filled with a bunch of very useful info and explains in detail things like how the amp works, how the grills work and tips on monitor placement as well as a better understanding of how the monitor design functions as a whole.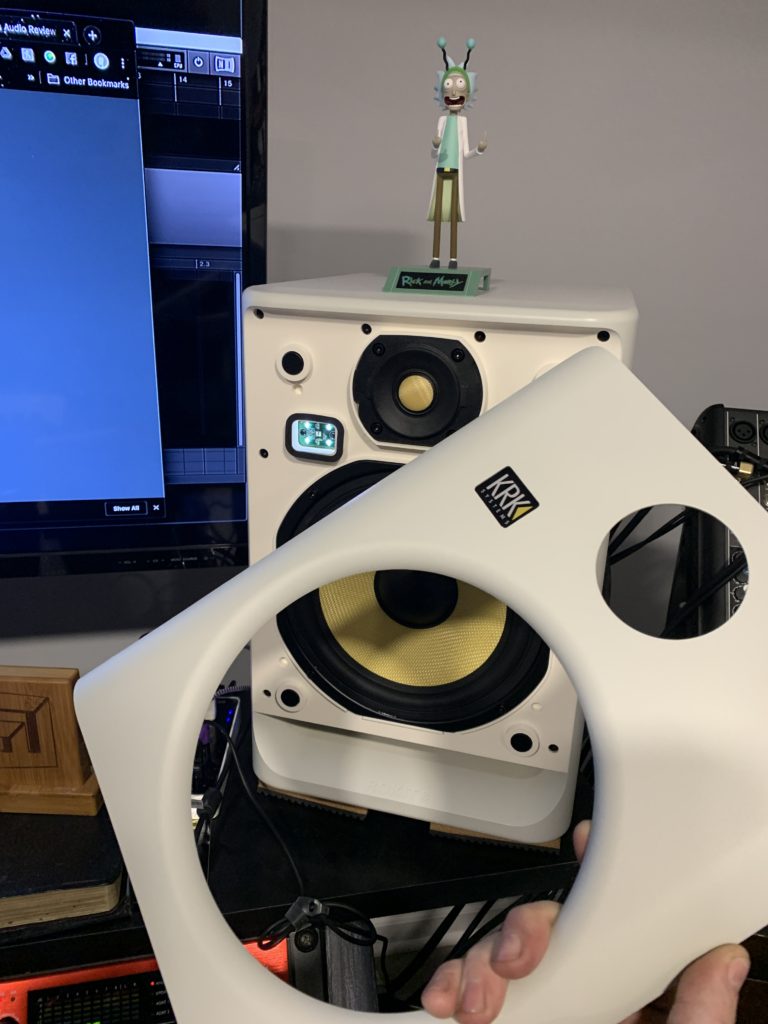 Ok so What is my overall feeling on the Rokit 8 Gen4 white noise? Well I think there are some pretty obvious improvements over the previous generations. The not so obvious improvements really are the stand outs for me though. KRK is taking the affordable lower cost monitor market and adding a ton of value. Monitors that are now able to retain midrange clarity while also extending down to an earth shaking 36hz is no small feat. The ability to easily tailor your monitors to your environment by way of the APP as well as the on board EQ is something that previously would have cost a few hundred dollars more at the minimum. Couple that with the fact that it is laid out in a way that those not accustomed to making these sorts of adjustments can understand… thats a big deal. You don't need to be an acoustician to understand that you should have a properly treated room. However even with a treated room you still need to align your monitors correctly and compensate for room modes etc. KRK holds your hand rather nicely through this process. IMHO that adds a lot of value. I have to say, those big yellow cones used to be a sign of producing rather than mixing. Now I can confidently say that these are at home in both the mixing environment as well as the production environment. I plan on using these monitors for another good 6 months or so and revisiting this review. My opinion is that the only real way to review a monitor is with a long term review. lets see how these Kevlar® cones stand up over time (I suspect they should quite well.) I am feeling quite optimistic about the future of this series.