Per4mer firmware update version 1.1 improves performance effects and introduces new features to make Per4mer even more performative.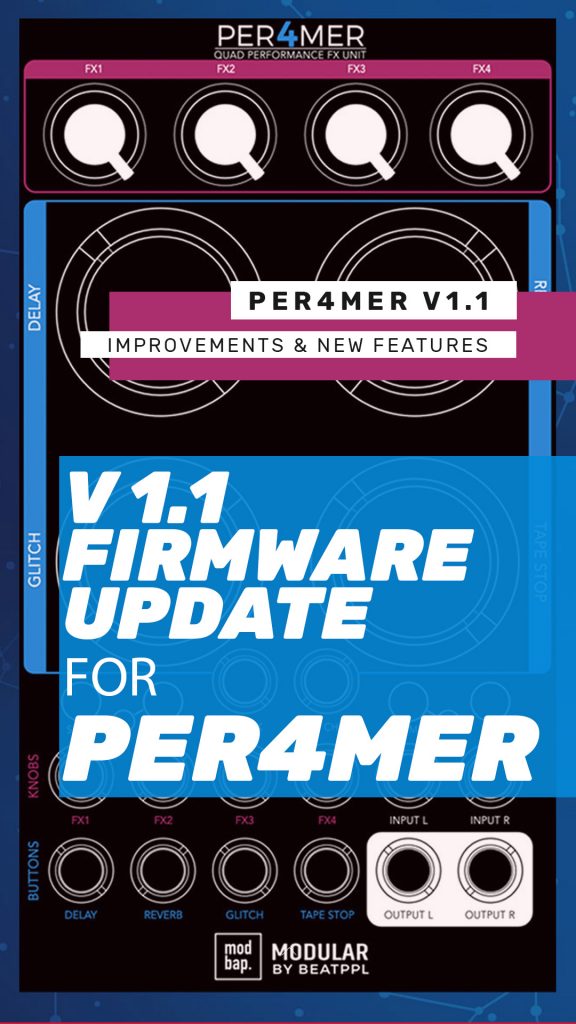 Per4mer firmware update version 1.1 brings a host of updated functionality that truly takes Per4mer to new heights.
Mix Mode offers an entirely new way to interact with Per4mer's performance effects allowing the user to use the 4 FX knobs as readily available individual wet/dry knobs to perform the effects DJ Mixer style.
Rest easy with the new and widely requested save features allowing the user to save the current state, restore the previous state, and recall the last saved settings between power cycles.
Join the livestream on Friday June 25th, 2021 at 6:30pm pst for Q&A and demo of new features.
New Features at a glance…
https://www.youtube.com/watch?v=xfrTyTdjAF4
4 new color presets

Wax 2 (heavy on the warble easy on the artifacts. white noise added.)
Fixed Low Pass Filter
Fixed High Pass Filter
White Noise

Wet/Dry knob for Color processor allows you to dial in as much or as little of the active color preset as you desire.
Mix Mode – use the 4 knobs like 4 readily accessible wet/dry knobs on one page allowing you to dial in as much or as little of the 4 performance effects (Delay, Reverb, Glitch, Tape Stop) as you desire in a performative manner.
Gain added to the compressor
Save (to manually save all settings) and restore previous
Remembers your settings between power cycles
Improvements include
Improved performance for Glitch effect zero-crossing / crossfade to improve clicks on engaging and disengaging.
Improve performance for Reverb pre-delay to fix leaks when totally counterclockwise.
Improved performance on reverb when the compressor is engaged to improve audible distortion.
And more…
Button combos at a glance (current and new)
TAP= tap tempo (tap twice to set tempo)
Color= toggle color processor off and on
Comp= toggle compressor off and on
COLOR+FX1 KNOB = Color wet dry
SHIFT+ARCADE BUTTON = Latch effect
SHIFT+TAP (SHORT) = SAVE
SHIFT+TAP (LONG) = Restore
SHIFT+COLOR (short) = cycle colors (there are now 8 colors)
SHIFT+COLOR (long) = CV Targeting
SHIFT+COMP (short) = Comp Key
SHIFT+COMP (long) = Performance Mix Mode Enter/Exit
SHIFT+COMP+FX1 KNOB = compressor gain
SHIFT+COMP+COLOR+TAP = Factory reset
Take a deeper dive into the User Manual 1v1 to learn more about the all-new Mix Mode and save/restore features. To get going quickly check out the quick reference guide.
For more info and to purchase the Modbap Modular Per4mer, head over to the their shop.