ZAOR Studio Furniture YESK Production desk
review by Flux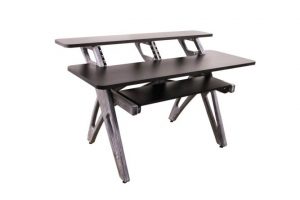 The Yesk is the latest production desk from boutique studio desk manufacturer ZAOR. The Yesk is a three tier desk with a slide out keyboard tray perfect for 49-61 keys. the center console features two bays of 4U of rack space at a nice working angle. The construction is of solid wood and feels extremely sturdy. One of my personal concerns about this review was that I know I will be moving in semi near future, will this desk hold up after a tear down and rebuild. I can say that after putting the desk together and seeing the smart anchor system that it uses to assemble the individual pieces (it comes flat packed), I have no doubts it will fair well in the move. Build time was pretty short (under two hours with me basically half paying attention to the build and half paying attention to another project I was working on. I'd bet with some focus I could have pulled it off in about 45 minutes.  The instructions are very well layed out and it is really only about 11 parts or so you need to join together. The only gripes I had during the build was that the adapters for the rack screws could have come preinstalled and that the bottom row of them are a very tight fit to the desk. Nothing really upsetting just nitpicking for the sake of this article really. 
Now getting back to the Look of this thing. I previously had been using a modified desk from staples that had seen its fair share of wear and tear. Moving to this "proper" desk is a serious workflow enhancement. the desk has these nice triangular cutouts in the legs that make it easy to run cables through (even if not meant for that) so that messy guys like myself stand a bit more of a chance at being organized. I also gained about 10″ of desk space as well with this desk. While it is one of the smaller in the ZAOR range, this desk is perfect for project studios. I keep a Keylab 49 in the slide out tray and mounted a little mouse pad to the tray as I like having my apple magic trackpad down low. the height of the tray doesn't hit my knees and gives me plenty of working space.  the dark grayish blue color of the wood really just looks classy in person and matches nicely with my Ikea DJ cases and desk top off to the side. I use the Callax record shelves with a desk top as well for a DJ station and the table tops sit at the same height so every thing looks great. The Yesk build quality feels substantially better than the ikea desk that I am using with no hollow feeling parts. I have a pair of JBL 5″ monitors on the upper tier and they are nice and sturdy with no sign of flexing at all.
Removing all the wires to the old set up and preparing to install the new desk was a task indeed. In the end it was all worth it.
I am known for having a messy studio so I was a little skeptical at first looking at the pictures. I can say in all honesty, this desk is wonderful. Its not so big that it takes over the studio, yet not so small that I find myself struggling to layout my gear in a productive manor. Currently on the main tier I have a Moog sub phatty to the left, Tempest in the center along with a apple wireless keyboard, fader port and then a Push 2 on a elevated stand. (ikea brada). nothing is smashed too close together, everything feels well spaced and I just feel more creative with this layout. In the rack I have left the bottom 1u open so that I can chase wires down through there so no wires are out in the way. If you are in the market for a proper production desk that packs a lot of punch into a small footprint. I highly recommend checking out the ZAOR YESK. Priced at $999 usd, its not the cheapest more most expensive solution, It is however the most sleek and stylish I have seen in this price range. If you care about both ergonomics and style while packing in a feature filled usable desk, this is it.  Keep an eye in future videos on my channel as this desk is now the center piece in my home studio.