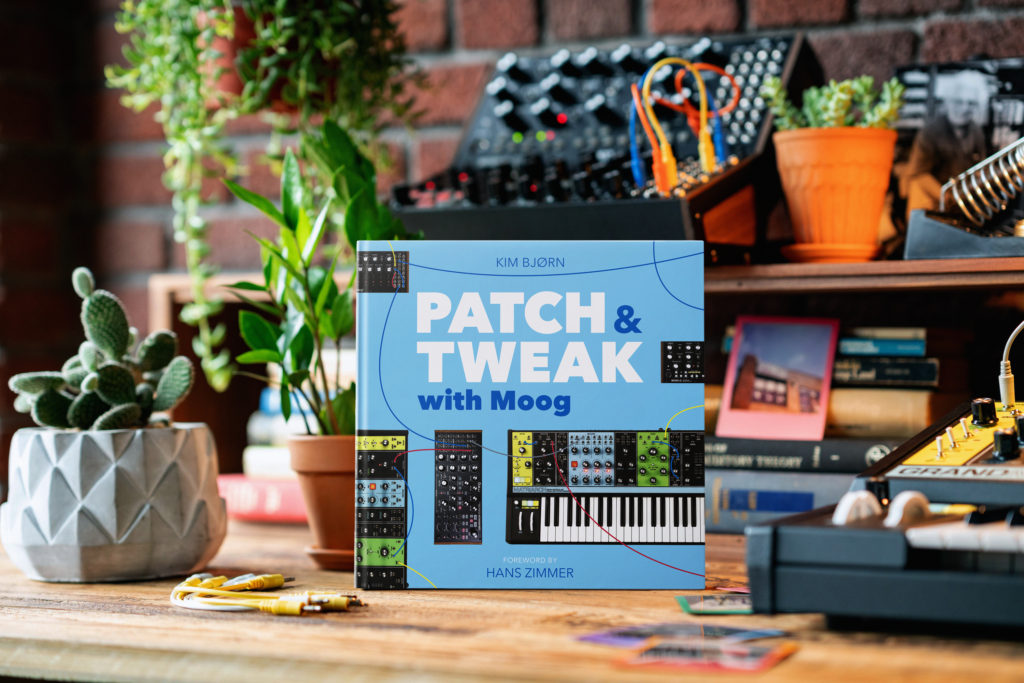 The Creators of PATCH & TWEAK Team up with Moog Music for New 200-Page Book on Semi-Modular Analog Synthesizers
PATCH & TWEAK with Moog is now available for pre-order worldwide.Asheville, NC, September 15, 2020 — PATCH & TWEAK with Moog is the ultimate resource for Moog synthesizer enthusiasts and musicians of all skill levels interested in an immersive modular synthesis experience. Author, designer, and electronic musician Kim Bjørn has inspired thousands to explore the world of modular synthesis with his 2018 release of PATCH & TWEAK. This fall, Bjørn and legendary synthesizer company Moog Music invite readers on a new journey of discovering a deeper understanding of electronic sound.The forthcoming release of PATCH & TWEAK with Moog is the result of more than a year of extensive collaboration with electronic music icons, established and emerging artists, and Moog employee-owners. Opening with a foreword from acclaimed film score composer and sound designer Hans Zimmer, this hardcover book features 200 pages full of synthesizer techniques, creative patch ideas, sound design tips, professional artist interviews, in-depth discussions with Moog engineers, and a glimpse into Moog's remarkable history. Readers will get an inside look into the Moog factory in Asheville, North Carolina, where these iconic instruments are built by hand, and learn about the modular synthesis innovator who started it all: Dr. Bob Moog.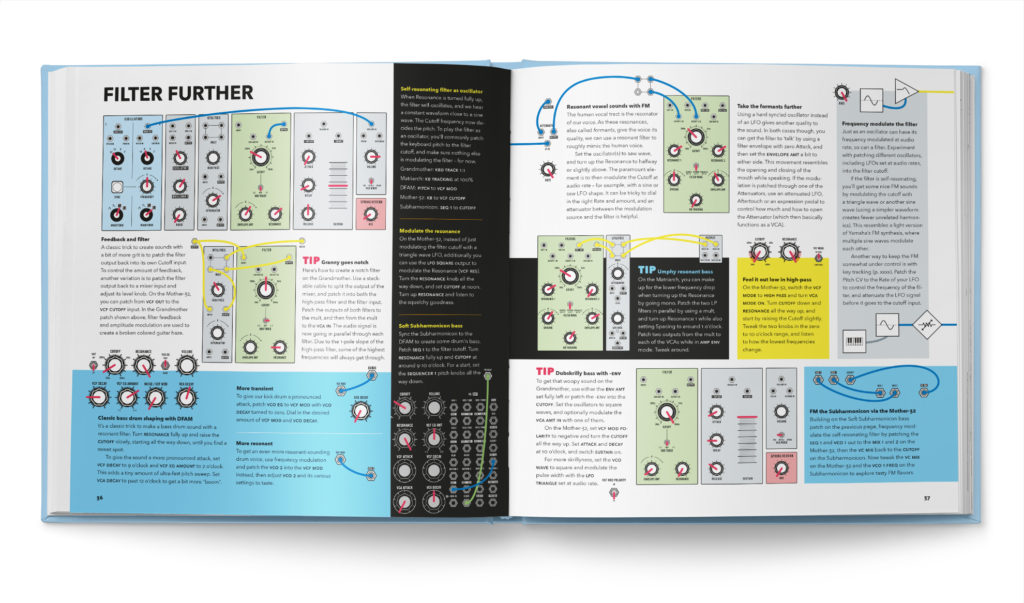 What Readers Can Expect to DiscoverThroughout PATCH & TWEAK with Moog's 200 pages, readers will explore more than 100 tips, ideas, and patches to use as creative inspiration, ensuring artists of any skill level can experience the joy of analog synthesis.● Introduction to modular synthesis concepts● Specific overviews, tips, and techniques for each Moog semi-modular instrument● Expanded options for more advanced modular users● Ideas for integration with external gear and Eurorack modules● Interviews, patches, and tips from artists and composers● Insider interviews with Moog engineers● The history of Bob Moog, Moog Music, and the many Moog synthesizers Click here for a sneak peek of PATCH & TWEAK with Moog.Meet the Moog Semi-Modular FamilyPATCH & TWEAK with Moog focuses exclusively on Moog's well-loved line of semi-modular analog synthesizers: Mother-32, DFAM, Subharmonicon,Grandmother, and Matriarch. These modern electronic instruments, each unique in sonic character and functionality, are inspired by the original analog circuitry of the very first modular synthesizers developed by Bob Moog in the 1960s. The pioneering synth company's introduction of the Eurorack-compatible Mother-32 in 2015 made it more accessible than ever to explore classic Moog modular sound, helping to spark the modular renaissance. In the five years since, the Moog semi-modular family has expanded to include an instrument designed for percussive pattern creation (DFAM), expressive monophonic and paraphonic keyboard synths (Grandmother and Matriarch), and the new polyrhythmic Subharmonicon. PATCH & TWEAK with Moog captures and celebrates exactly why this collection of instruments is renowned throughout the music industry as quality sound design and performance tools.All of these semi-modular synthesizers are 100% analog, offer users the option to explore with or without patching, and are equally suited for beginner and expert synthesists alike.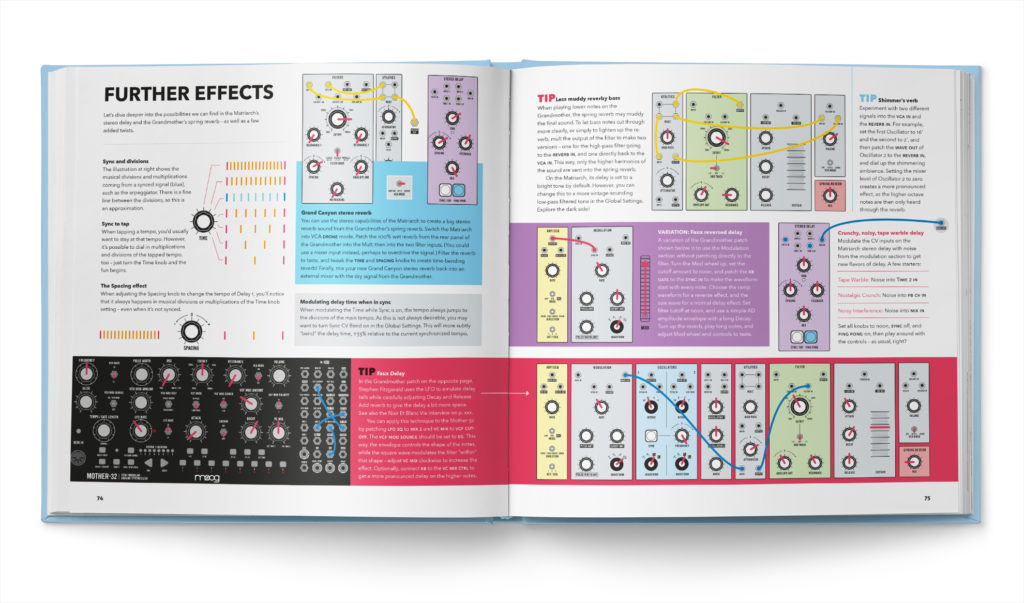 Ordering & AvailabilityPATCH & TWEAK with Moog is now available for pre-order worldwide. Just in time for the holiday season, the book's official release date is November 6th, 2020. Visit moogmusic.com, your favorite reseller, or bjooks.com to place your pre-order today.More about Kim Bjørn & BJOOKS
BJOOKS is known for the highly acclaimed industry-standard books PUSH TURN MOVE, PATCH & TWEAK, and PEDAL CRUSH. All titles received five-star reviews and have become go-to books within the electronic music scene. Combining high-quality design with diverse artist interviews and overviews of gear, these books have earned their place in the hearts, hands, and studios of musicians and producers all over the world.BJOOKS is the boutique publishing company started and run by author, designer, and musician Kim Bjørn after the success of his first international book, PUSH TURN MOVE, in 2017. Following his passion for design, music, technology, and people, Kim created PATCH & TWEAK in 2018 with Chris Meyer of Learning Modular, and this book soon got the label "bible of modular synthesis."Kim teamed up with brand manager Lars Juhl early on, and the dynamic duo from Denmark has decades of experience in design, publishing, sales, and music creation. Together with collaborators worldwide, the team follows its passion for making beautiful, highly usable, and tangible products in a digital world.The mission of BJOOKS is to continuously create exciting hardcover books about music technology, artists, and makers—to document, inspire, and explore the world of music creation. Learn more here.