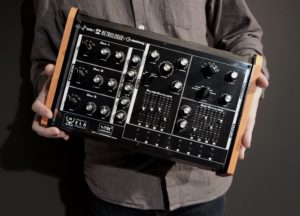 MIND Music Labs lets 'Powered by ELK' Retrologue 2 desktop synth prototype fly for Steinberg at SUPERBOOTH19


STOCKHOLM, SWEDEN: Mind Music Labs is proud to announce a continuation of its official partnership with music and media production products provider Steinberg — initially resulting in the German giant's VST (Virtual Studio Technology) plug-in format natively supporting the integration of the Swedish startup's ELK MusicOS, allowing VST- based plug-ins to run seamlessly in 'Powered by ELK' musical instruments and audio processors — by bringing a brand-new, co-developed desktop synth prototype with full MIDI (Musical Instrument Digital Interface) support to SUPERBOOTH19 in Berlin, May 9-11…
"Plug-ins and software synths have brought amazing power and flexibility to computer-based recording, but now musicians want to harness all that power without the computer; there are times when you want to twist real knobs, rather than wiggle a mouse." So says MIND Music Labs CEO Michele Benincaso, before adding: "It's really exciting to be empowering those users with ELK MusicOS."
This sentiment is clearly shared by Florian Haack, Senior Marketing Manager at Steinberg: "We immediately saw the potential of ELK MusicOS, and that's why we added it to the official VST SDK [Software Development Kit]. The development of the 'Powered by ELK' Retrologue 2 hardware prototype has further strengthened our belief that, with the help of ELK MusicOS, VST can become a standard for not only software, as it is today, but also for hardware."
Having said that, then, the proof of the pudding is in the tasting. The proof-of-concept 'Powered by ELK' Retrologue 2 desktop synth prototype — running Steinberg's Retrologue 2 VST Virtual Analog Synthesizer, successfully emulating the warmth and fatness of classic analog synthesizers — will be being showcased for all to see and hear on Steinberg-owner Yamaha's booth (H310) at SUPERBOOTH19 in Berlin, May 9-11.