BERLIN, GERMANY (August 18th, 2020) – Following a phenomenally successful Kickstarter campaign of the MOD Dwarf, funded in less than 24 hours, MOD Devices now releases the MOD Duo X audio processor to the global retail market. Its key development is the powerful Hexa-core 64 bit ARM CPU processor, a singular advantage in the audio processing landscape. The intuitively patchable standalone device sports solid user-friendly controls, including 8 new assignable potentiometer knobs, 4 freely-assignable push buttons, and 2 instant "snapshot" push buttons. The Duo X also comes with Control Voltage input and output, as well as new software features such as MIDI Slave Sync and Stereo Link. Featuring instant recall capabilities, the one of a kind box is geared towards hands-on use such as studio work, electronic music production & performance, and even DJing.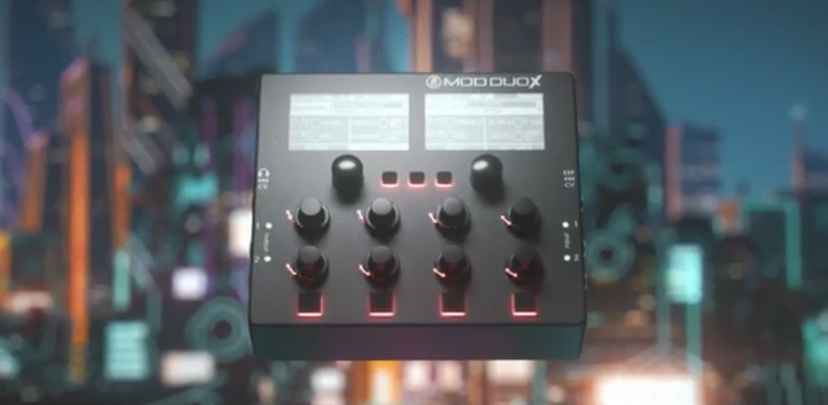 "The MOD Duo X presents itself as the perfect audio processing hub a musician could want. With its ability to connect to any musical equipment and its boundless internal patching capabilities, the Duo X fills a long-existing gap in the modern musicians' rig.

The powerful Hexa-core CPU and our ever-growing plugin universe result in a system that enables musicians to obtain practically any desired sound all with a highly durable build and pleasurable design experience." Says Gianfranco Ceccolini, MOD Chief Executive Officer and Founder.

Hexa-core 64 bit ARM CPU
Commutable analog control inputs – 2 x Control Voltage / Expression Pedal
Commutable outputs – 2 x Control Voltage / Headphone
2 freely-assignable rotary encoder
8 freely-assignable potentiometers
4 freely-assignable push-buttons
Controller pagination system for multiple controlling scenarios
2 instant "snapshot" push-buttons for easy setting recall and alternation
MIDI Sync (Ableton Link compatible) in master and slave mode
Max compatible (any gen~ based Max tool will run on the Duo X)
The new features of the MOD Duo X include:

On August 18th, the Duo X will be made officially available globally, through international distribution and retail partners. These include Reverb, as well as the MOD Devices Webshop for the recommended price of 749.00 Euro or USD
Like the regular Duo stompbox, the MOD Duo X audio processor is made in Germany. It measures 180mm x 60mm x 160mm (W x H x D) and weighs 1.3 kg.