The Orgone Accumulator v2 is almost here!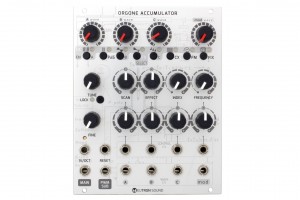 Yes thats right … there is a NEW Orgone Accumulator (referred to as OA from here on) on the block and its a big deal! So you might be scratching your head wondering what the OA actually is. The OA is at its fundamental, a wavetable VCO… a complex one at that. At the top side of the module you will see there are 3 wave controls and a modulator control. The three wave controls correspond to 3 wavetables which can each be morphed and twisted in its own way.  Independent control of each waveforms effect is available with push buttons below the wave controls.. at this point before we dive to deep let me just put it this way, The OA is a complex triple wavetable VCO, the fourth knob is an independent wavetable dedicated as a modulator. BUT WAIT THERE IS MORE! thats right, on top of being a fantastic complex VCO, the OA also is 1) A complex FM drum voice. this is no simple drum, but rather completely changes all of the controls on the front panel and takes complete advantage of the OA's unique abilities. 2) A FM synthesis VCO module. with FM clicked in you can bring forth complex FM tones! 3) Pulsar mode: "Basically, a pulsar is made up of a particle of sound ("pulsaret"), which is shaped by an envelope whose duty-cycle and frequency can be manipulated." Really wild synthesis that again changes a few controls and really looks to take advantage of the complex front panel that is available.
  4) 8 effects available to apply to the individual waveforms! Using attenuverters you can really dive deep and manipulate features with amazing results.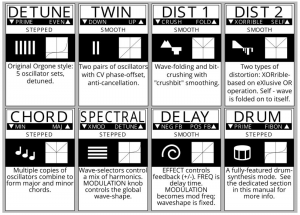 So why hasn't the OA received the sort of press something like Mutable instruments braids? Well to put it simply, up until recently it was not available in any form other than a DIY kit. A kit that wasn't exactly noob easy either. While the kit isn't rocket science, it does require soldering skills, minor arduino programing and a steady hand. The new v2 retail module is ready to go right out the gate, and looks fantastic. On top of all that it adds several new controls. Improved audio fidelity through the use of clever smoothing. Dedicated buttons for each effect mean no confusing led read outs to scroll through to indicate which mode or effects you have on. Increased CV inputs allow for even deeper external modulation routings…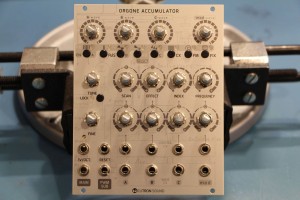 and then there is the sexy panel and Circuit board… take a look at this bad boy.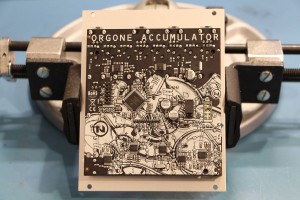 yeah… you  know you want that.   I have had the pleasure of testing and assisting in tweaks to this unit for some time now and I can say, it is fantastic. There is rarely a patch in my system that doesn't have use for the OA. The drum mode is punchy and fantastically versatile, easily my favorite snare drum module in my rack. The Pulsar mode will have you creating plucks and spacey atmospheres the FM mode creates that vibrating and bell tones with ease as well as thundering bass and smooth sweeps. Wavetables themselves can scan and twist around in such a pleasant way. Noise sources are deep as well with synthetic noise that can be pitch controlled as well as simple white noise and more. I will have much more on this ridiculously deep module once I have a retail unit in hand (they are being pressed up by the good folks over at WMD as you read this!) get a look at the manual here. Orgone Accumulator retail manual  for now I recommend checking out my Instagram videos as I have been dropping in teasers of the new modes here and there 🙂 or peep the sound cloud demos 🙂   Retail price is looking to be $429 usd