System 100 Plug out release!
Looks like Roland finally released their latest plug out for the System 1, 1m plug out synthesizer hardware.
as with other plug outs this appears to be fully mac and windows compatible the versions for computer are listed as
VST instruments (VSTi) version: VST 3.6 compatible
Audio Units (AU) version: V2 Audio Units compatible
down below on the specs page it lists host application requirements : VST instruments (VSTi) version: VST 2.4/3.6 compatible
What is really cool about this plug out is that its essentially already a semi modular system which means OPTIONS.
again this is a mono synth but has a quite deep set of modulations and routings.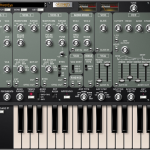 Perfect replica of SYSTEM-100 sound and behavior
ACB provides expansive, liquid tone of the original
Model 101 Synthesizer and Model 102 Expander in a single instrument
Sophisticated architecture with dual VCO, dual LFO, S&H, Ring Mod, Noise and more
Versatile semi-modular patching capabilities
Integrated Phaser with modulation inputs, Reverb and Delay
Advanced arpeggiator with Scatter capabilities
VST, AU and PLUG-OUT compatible
With the new SYSTEM-100 PLUG-OUT Synthesizer, the sound of this legendary instrument is perfectly reproduced and brought to life with Analog Circuit Behavior (ACB). ACB faithfully captures the sound and feel of our most revered classics, using original design specs, and a detailed, part-by-part analysis of each analog circuit. While the sound and behavior is reproduced with total accuracy, there are a number of modern additions that improve upon the original design.
The features of the original Model 101 Synthesizer and Model 102 Expander are combined into a single interface, allowing you to use both VCOs, both LFOs, S&H, Ring Mod and so on with no patching. Of course, the signal path can be altered and parameters modulated by connecting cables between the patch points. A new 14×15 Routing Matrix makes for super-quick patching with all connections still visually reflected as patch cables on the SYSTEM-100's control panel. You can toggle patching on/off as well as quickly see the entire signal flow with convenient buttons right above the Routing Matrix.
Like other PLUG-OUTs there are dual ADSR envelopes (VCF and VCA) and the advanced pattern generation of the Scatter equipped Arpeggiator. Six arpeggio types with six step settings combine with variable Scatter type and depth to create a seemingly infinite selection of patterns. A lush phaser with modulation inputs joins the superb reverb and delay, creating an effects section perfectly suited for synth sounds.
Price looks set at $195 for non system 1/1m owners and $145 for system 1 /1m users
a bit higher priced than previous plug outs…
More info Here https://www.roland.com/products/system-100_plug-out/features/